The crisp texture of vegetables and savory seasonings makes the Chinese Spring roll a popular appetizer
Makes about 2 dozen spring roll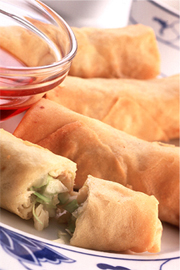 Spring Rolls
Ingredients:

1 tablespoon oil
2 cups your choice of meat (cooked ham, Chinese barbecued pork, raw pork, or raw chicken, cut julienne; you can also add tiny shrimp or leave out the meat entirely and substitute more vegetables)
6 Chinese dried black mushrooms, soaked to reconstitute, then cut julienne
1/2 cup bamboo shoots, cut julienne
1 cup mung bean sprouts
1 small carrot, shredded
1-1/2 cups Chinese or regular green cabbage, shredded
2 scallions, shredded
1/4 cup chicken broth (or vegetarian broth for a vegetarian version)
2 tablespoons oyster sauce
2 teaspoons sugar
2 teaspoons cornstarch (corn flour)
1 package spring roll or egg roll wrappers, thawed if frozen
1 egg, beaten

4 cups oil for deep-frying
plum sauce for dipping
Directions:

1. Prepare filling: Heat oil in a wok. Add meat and stir-fry briefly (until cooked through, if raw). Add vegetables and stir-fry about 2 minutes. Combine chicken broth, oyster sauce, sugar, and cornstarch. Add to wok and stir-fry until sauce thickens. Let filling cool before filling spring rolls (refrigerate if you're in a hurry).
2. To prepare each spring roll: Position one wrapper like a diamond with one point facing you. Place about 2 tablespoons of filling in a log shape across the bottom about 2" from the lowest corner. Fold the bottom corner up over the filling and tuck it behind the filling. Roll the packet up once to enclose the filling securely. Moisten the three remaining corners of the wrapper with beaten egg. Fold the left and right corners to the center and press down firmly to seal, forming an envelope. Finish rolling up, sealing the top corner. Repeat with remaining packets.
3. (Spring rolls may be prepared a few hours ahead and refrigerated, covered with plastic wrap, until ready to cook. Make sure they do not touch each other or the dough will stick together.)
4. In a deep-fryer or wok, heat 4 cups of oil to 360 -375 degrees F. Deep-fry spring rolls a few at a time, until crisp and golden. Drain on paper towels. Serve the spring rolls hot, whole or cut in thirds, with plum sauce as a dip.

More delicious Chinese appetizer and snack recipes are available in ChineseFoodDIY's cookbook "Real & Healthy Chinese Cooking".