Ingredients:
1/2 lb Chinese egg noodles (dried, not fresh)
1 tsp Sesame oil
1 tsp Oil
2 oz Raw lean pork, cut in matchsticks
2 oz Raw lean beef, cut in matchbook cover sized pieces
2 oz Raw chicken, in small pieces
2 oz Raw shelled shrimp or cooked
2 ts Dry sherry
2 ts Cornstarch
4 tb Oil
2 oz Button mushrooms, sliced
2 cup Chinese cabbage, shredded and blanched
2 Scallions, cut into matchsticks size pieces
2 tb Soy sauce
1 ts Salt
1/4 lb bean sprouts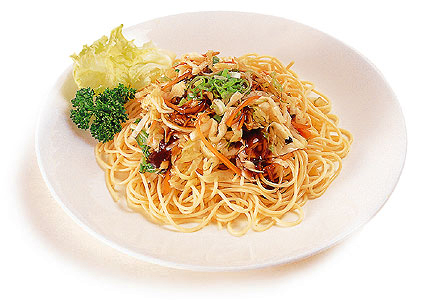 Directions:
Bring a lot of water to the boil. Dump noodles in; turn heat to low.

Cook 3 minutes. Drain, toss with sesame oil and regular oil, set aside.

In 4 separate dishes, combine each of the meats with 1/2 t sherry and 1/2 t cornstarch.

Heat the 4 T oil in a wok on high heat. Add meats in this order, stirring for a few seconds between each addition: pork, beef, chicken, and shrimp.

As soon as you've added and tossed the shrimp, add the mushrooms and cabbage. Cook until cabbage is wilted.

Add scallions, soy, salt. Stir. Add the noodles and the bean sprouts, and stir-cook for 3 min. Serve hot.

More delicious lo mein recipes are available in ChineseFoodDIY's cookbook "Real & Healthy Chinese Cooking".