Serves 3 to 4

Ingredients: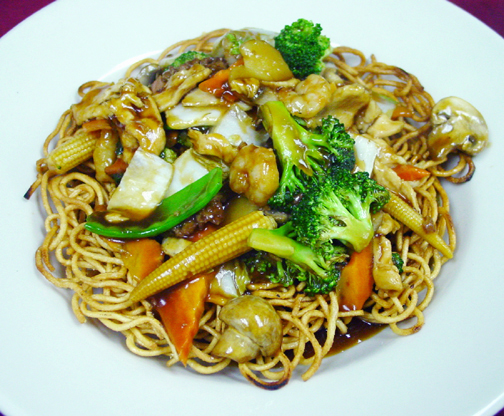 Szechuan Lo Mein
1 lb. fresh noodles or spagetti
1/2 lb. chicken breast, cut into strips
4 ounces shrimp, shelled and cleaned
1/2 bok choy, cut into bite-size pieces
1/2 cup carrot, cut on the diagonal
1/2 cup broccoli or cauliflower, cut on the diagonal into 1-inch pieces
1 onion, shredded
1 clove garlic, minced
1 tbs. light soy sauce
2 tbs. hot bean sauce
1/2 tsp. salt
5 tbs. cooking oil
Marinade:
1 tsp.dry sherry
1 tsp. light soy sauce
1 tsp. cornstarch

Sauce:
1/2 cup stock
1 tsp.light soy sauce
1 tbs.chili oil
1 tsp.sugar
1 tsp. sesame oil
2 tsp. cornstarch
Directions:
Mix together marinade ingredients. Marinate chicken for at least twenty minutes. While marinating chicken, mix together sauce ingredients. Set aside.

Parboil noodles in a pot of boiling water for three minutes (SPAGETTI AS PER PACKAGE). Drain. Heat wok. When heated, add 1 tablespoon of oil. Add garlic and chicken and stir-fry.

When the chicken is nearly done, push the chicken up to the side of the wok and add the shrimp in the middle of the wok. Stir-fry.

When the shrimp are done, mix the chicken and shrimp and remove from the wok to a platter. Reheat the wok and add 1 tablespoon of oil. Add onions, bok choy, carrot and broccoli and stir-fry until tender and crisp. Sprinkle 1/2 teaspoon of salt over the vegetables and mix it in.

Remove the vegetables to a platter. Clean out the wok with a paper towel. Heat wok again and add 3 tablespoons oil.

Place noodles in the wok, using chopsticks to break them up. Add 2 tablespoons hot bean sauce and 1 tablespoon light soy sauce. Stir-fry until the noodles are heated through. Add cooked chicken, shrimp and all the vegetables. Re-stir sauce mixture and add. When it comes to a boil, test and adjust the seasoning if desired, then remove and serve.

More delicious noodle and lo mein recipes are available in ChineseFoodDIY's cookbook "Real & Healthy Chinese Cooking".