Serves 4
Ingredients: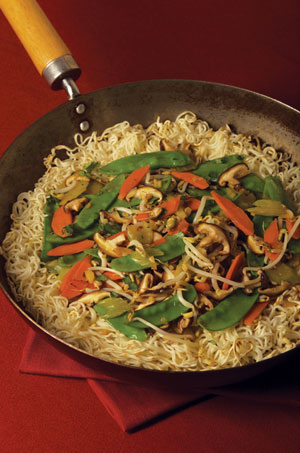 1/2 pound dried or fresh egg noodles
2 ounces celery
2 ounces canned bamboo shoots
2 tablespoons peanut oil for stir-frying
3 garlic cloves, crushed
1 small onion, finely sliced
1/2 pound small button mushrooms, whole
1 tablespoon light soy sauce
2 tablespoons dark soy sauce
2 teaspoons finely chopped fresh ginger
3 tablespoons vegetable stock
1 tablespoon rice wine or dry sherry
1 teaspoon sugar
1/4 pound bean sprouts
Garnish:
Fresh coriander sprigs
Directions:
1. If you are using fresh noodles, blanch them first in a large pot of boiling water for 3 to 5 minutes. If you are using the dried noodles, cook in boiling water for 4 to 5 minutes. Drain the noodles, then put them into cold water until required.
2. String the celery and slice diagonally. Shred the bamboo shoots.
3. Heat a wok or large frying-pan and add the oil. When moderately hot, add the garlic and stir-fry for 10 seconds. Add the onion, mushrooms, celery, and bamboo shoots and stir-fry for about 5 minutes.
4. Drain the noodles thoroughly and put into the wok. Continue to stir-fry for 1 minute then add the rest of the ingredients except the bean sprouts. Continue to stir-fry for another 2 minutes and then add the bean sprouts. Give the mixture a good stir and turn it onto a serving platter.
5. Garnish with fresh coriander sprigs.
Nutritional Breakdown per serving:

335 calories (kcal); 10 g Total Fat (15 percent calories from fat); 12 g Protein; 51 g Carbohydrate; 54 mg Cholesterol; 901 mg Sodium; 4g Fiber
(Based on a medium sized onion; also, the database does not have a category for dark soy sauce. Just to give an idea of how much it helps to cut back on oil in cooking, using 3 tablespoons instead of 2 increases the calorie count to 364 calories per serving).

More delicious Chinese recipes are available in ChineseFoodDIY's cookbook "Real & Healthy Chinese Cooking".