Ingredients: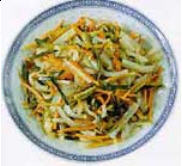 Marinated Three Shreds

1 small fresh cucumber, about
7 oz (200 g) 3 1/2 oz (100 g) carrots
1 sheet fenpi (mung bean flour skin)
1/4 tsp salt, or to taste
5 tsp soy sauce
4 1/2 tsp sugar
2 tsp vinegar
1 1/2 tbsp (25 g) fresh ginger, shredded
1 tbsp sesame oil
1/4 tsp MSG (optional)
Directions:

1. Seed the cucumber. Cut into 1 1/2 inch (4 cm) shreds. Peel the carrot and shred. Dip the fenpi in boiling water and shred.

2. Mix the cucumbers and carrots with the salt and let marinate. Squeeze out the excess water and place on a serving dish. Add the fenpi, soy sauce, sugar, MSG, vinegar, and ginger, and blend well. Sprinkle with the sesame oil, and serve.

More delicious Chinese recipes are available in ChineseFoodDIY's cookbook "Real & Healthy Chinese Cooking".