Serves: 4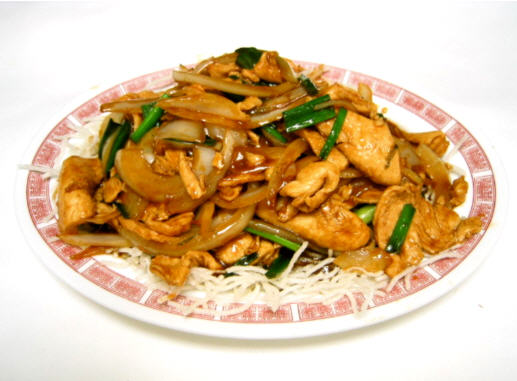 Ingredients:



2 tsp groundnut/peanut oil
1/4 tsp salt
1/4 tsp sugar
2 tsp cornstarch
10 oz boneless skinless chicken breasts cut on diagonal
into 1/4"-thick by 2"-long slices
1/2 tsp minced garlic
2 tsp freshly-ground chilis
1/2 tsp finely-chopped onion
2 tsp cold water
2 tsp sugar
1 tbl groundnut/peanut oil
1 tbl Shaoxing rice wine or dry sherry
1/3 cup Family Chicken Broth (see recipe)
1 tsp dark soy sauce
4 x Chinese dried mushrooms soaked in warm
water for 45 minutes, rinsed, water
squeezed out, stems discarded, caps halved
1/2 sm red bell pepper cut 1" triangles
3 x scallions (spring onions), mainly white cut into 2" lengths
1/2 tsp cornstarch mixed with
2 tsp cold water for thickening
1 tsp sesame oil
2 tsp ground bean sauce (mo si jeung)


Directions:

Mix the marinade ingredients together and marinate the chicken while you prepare all of the other ingredients for cooking. Mix together the garlic, chilis, and onion. Combine the ground bean sauce, water, and sugar.

Heat a wok, add the groundnut oil, and swirl the surface with oil. Stir-fry the garlic mixture for 5 seconds. Add the ground bean sauce mixture and stir-fry for 5 seconds. Add the rice wine and combine. Pour in the broth; then the dark soy sauce and stir to combine. Add the chicken, mushrooms, bell peppers, and scallions. Stir-fry over high heat for 2 to 3 minutes. Then, reduce the heat a little, and stir in the thickening mixture for a few seconds.

Finally, add the sesame oil, which will impart a beautiful fragrance and richness to the dish.

Serve hot.


More delicious Chinese recipes can be found in ChineseFoodDIY's Chinese cookbook "Real & Healthy Chinese Cooking".